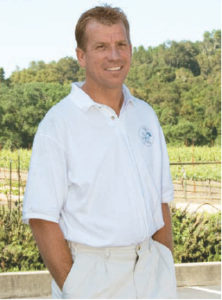 Dave Wesolowski is the President and founder of Sprinkler King in Atascadero, California. Dave founded S.K.I. in 1986. After attending both Cuesta College, and Cal Poly in beautiful San Luis Obispo California. Dave has successfully grown a client base of over 5,500 clients in the past 34 years using the following two rules: a solid marketing package and ethical business practices.
In 1997 Dave received the California Landscape Contractors Associations First place  trophy for the Fairbanks residents design/ build project in Templeton, CA. Among several other beautification awards, commendations for conservation Dave is currently consulting with cities and municipalities on systems conversions and updates. Dave has worked closely with people like John Moore the CLCA water management program advisor and is up on what is the latest in irrigation Technology.
For the past 16 years Dave has been a sitting board of directors for United Cerebral Palsy of Santa Barbara. Since inception Dave has donated Sprinkler King's time, as well as his own time to help with city projects, local historical buildings and others groups that need help. Dave believes that in order to truly be successful you must to be willing to donate your time and support your local community. There is a balance you must strive for.
Over the past 22 years Dave has been developing the Sprinkler King® license agreement opportunity for Landscape and Irrigation Contractors. Companies that are looking to add on, expand, or change the scope of their services. Sprinkler King Inc. has developed a solid marketing package that uses the state of the art paperless scheduling and billing system. This is not a franchise. This is a license agreement for qualified operators to use the Sprinkler King® name branding and marketing. The license agreement offers a low buy in, the ability to bring in your own Equipment a sliding scale, based on gross profits at the end of each year. For more information on joining Sprinkler King, contact Dave at (805) 466-4990 or visit www.sprinklerking.com